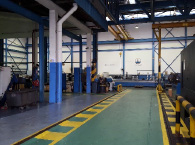 Interoffshore is a small but elite specialty oilfield machine shop. We're focus on the repair and manufacture of downhole equipment (i.e. drilling, intervention, completions and production) but we do on occasion handle subsea and surface equipment.
We hold the API Monogram license 7-1 for threading of rotary shouldered connections and is automatically audited to API Q1 9th Edition standards. Therefore, we are capable of supplying and repairing standard downhole equipment, including the drill string, bottom hole assembly (BHA) parts, and well-intervention tools.
We are the vendors of several big oil service companies and original equipment manufacturers (OEMs). They engage us as contract manufacturers, to produce their proprietary designs. We have good experience for completion tools (packers, liner hangers, polished bore receptacles, sliding sleeve systems, safety valves, etc) , and have been involved in projects for tools used in pressure control, directional drilling, measuring & logging while drilling (MLWDs).
Being small and nimble, we are able to handle "quick turn" requirements very well. In order to achieve that, we ensure that we have a competent and cohesive team, supported by strong systems and processes.
Interoffshore also qualifies for the ISO 9001:2008 standard.